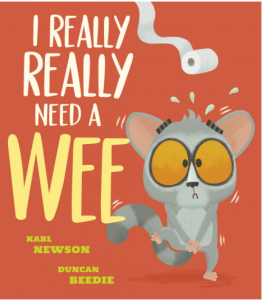 Bush Baby needs a wee. In fact, she really, really needs a wee. She definitely didn't need to go before she left home (sound familar?!?) but now the situation is really quite desperate and there isn't a toilet in sight. What on earth is she going to do?
First she tries to think about something else – but that doesn't work. Then she sets off in search of a loo but ends up being chased by a bear! Now she needs to wee so badly that she's jiggling up and down and it looks like everything is about to go badly wrong…
Suddenly, she spots a public toilet in the middle of the woods and she whoops with delight. But there's one small problem – there are at least a hundred animals in front of her in the queue! Will she be able to make it to the bathroom on time?