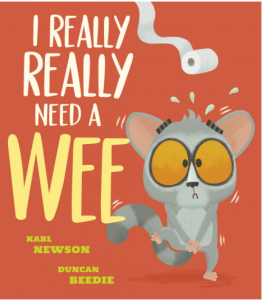 Bush Baby needs a wee. In fact, she really, really needs a wee. She definitely didn't need to go before she left home (sound familar?!?) but now the situation is really quite desperate and there isn't a toilet in sight. What on earth is she going to do?
First she tries to think about something else – but that doesn't work. Then she sets off in search of a loo but ends up being chased by a bear! Now she needs to wee so badly that she's jiggling up and down and it looks like everything is about to go badly wrong…
Suddenly, she spots a public toilet in the middle of the woods and she whoops with delight. But there's one small problem – there are at least a hundred animals in front of her in the queue! Will she be able to make it to the bathroom on time?
Ivy laughed as soon as she saw the cover of this book so I knew immediately that it was going to be a hit! It's laugh-out-loud funny and we absolutely love the illustrations. The range of emotions we see on the Bush Baby's face is fantastic. She starts off looking a tiny bit uncomfortable but by the end you can practically see her bouncing off the page!
Buy from Bookshop.org and support independent bookshops: https://uk.bookshop.org/a/155/9781788817851
Buy from Amazon UK: https://amzn.to/2JuKwVg
Note these are affiliate links and Ivys Library receives a small commission if you choose to purchase through them.
Disclosure: The publisher provided us with a copy of this book in exchange for an honest review.