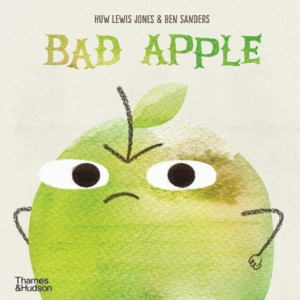 Hands up if you have a child with a dark sense of humour!
In most respects Ivy is a sensitive little soul but she loves stories which feature a shady character or an unexpected plot twist. As soon as I picked up this book – Bad Apple by Huw Lewis Jones and Ben Sanders – I knew it was going to be a hit with her.
Apple is not a very nice character. He steals Pear's chair. He drinks Pea's tea. He steals Cat's hat. He even pushes Spud in the mud. He seems to enjoy making life miserable for those around him and he shows absolutely no remorse. As we move from page to page Apple's behaviour gets worse and worse, but eventually he makes a mistake by underestimating Snake. Will he get the comeuppance he deserves?