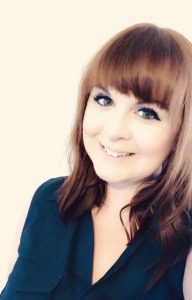 Hello Kate! Thank you so much for chatting to me about your new book 'Edmund The Elephant Who Forgot'. Could you give us a quick overview of what the book is about?
Edmund is a little different from other elephants in that he's quite forgetful. And so, when his mother sends him to the shop to collect things for his brother's birthday party, his ears wiggle with worry. Equipped with a little memory song to sing, he makes his way around town with hilariously disastrous results. There is a hidden message that good can come from even the trickiest of situations!
What inspired you to write this story?
I'm a big collector of notebooks! And whenever an idea, be it a title, funny word, or character's name pops into my head, I have to scribble it down there and then. One day I think I was joking about elephants never forgetting and Edmund's little memory song just popped in my head; the story just unfolded from there.
Isobel Lundie's illustrations are fabulous and really bring your story to life. How did you feel when you saw the final version of the book?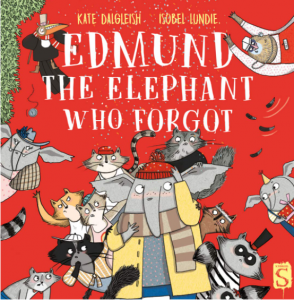 I couldn't have asked for more from Isobel and the illustrations truly are fabulous! It seems like a lifetime ago that we first met for coffee in London and bounced different ideas off each other and obviously throughout lockdown I was sent lots of updates, but seeing the final book was beyond what I could have imagined. Isobel has brought Edmund and the other zany characters to life! With so much to spot (including Colin the Cricket!) I see something new every time I read it! In fact, the whole team at Salariya have been amazing, I'm so thankful!
Have you always wanted to write children's books?
I know it sounds like a cliché but writing children's stories has always been a dream; I was that child in class who brought pages and pages stapled together for the teacher to read!  Since the time I could imagine, I have told stories and from the moment I could write, down they went! So, to have that dream come true means the absolute world.
What do you think are the key ingredients for a great picture book?
A great picture book for me is one that can be shared. One that the reader can get fully immersed in and be part of the story. Whether that be through joining in with familiar phrases, guessing what might happen next or spotting things in the illustrations.
Do you recall your favourite picture books from when you were a child?
My favourite picture books as a child… there are almost too many to mention! Not Now Bernard by David McKee was, and still is, a huge favourite of mine. We were lucky enough to catch the exhibition at Seven Stories in Newcastle just before lockdown last year, and it brought back so many memories! I also loved sharing Can't You Sleep Little Bear by Martin Waddell with my mam before bed; irreplaceable moments that create lifelong memories.
Thank you so much for taking the time to talk to us! If any of our readers want to find out more, where can they find you?
Thank you so much for your questions! If your readers would like to know more they can follow me on Instagram @katedalgleishauthor
Read our review of Edmund the Elephant Who Forgot
Download Isobel Lundie's step-by-step guide to drawing Edmund