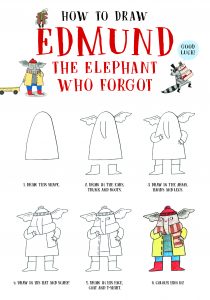 We recently shared a review of 'Edmund The Elephant Who Forgot' and it was very popular indeed!
Ivy and I were extremely fortunate to get the opportunity to do a Q&A with author Kate Dalgleish (which you can read here) and the wonderful Isobel Lundie has created us our very own step-by-step guide to drawing lovely Edmund.
So what are you waiting for? Grab your kids and your colouring pencils and dive in!
Download the step-by-step guide now
We would love to see your creations. Make sure you post them on instagram and tag us @ivylibrary . We'll share the best ones in our stories!