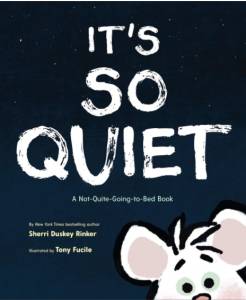 It's nighttime at the farm but little Mouse can't sleep because it's just too quiet. He tosses and turns in his bed until his mother comes to sit with him. She suggests that he snuggles down and lets the soft noises of the night carry him into slumber.
The mouse listens carefully and soon his little ears pick up the sounds of a bullfrog croaking nearby and some crickets chirping in the long grass. The old screen door bangs, the wind whistles through the trees and somewhere in the distance a coyote howls.
Alarmed the Mouse gets out of bed and opens the window. Where once it had all semed quiet, now he can hear nothing but pure noise. Owls, dogs, snoring, creaking, tapping – where is all this noise coming from and how on earth is he supposed to get to sleep?