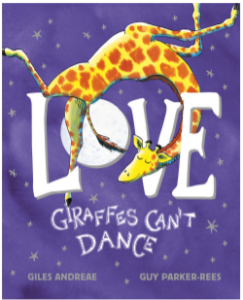 I totally meant to post about this book on Valentine's Day but, despite searching the whole house, I couldn't find it anywhere. This morning I found it lodged down the side of Ivy's bed which means she must have snuck it upstairs to read by herself! I'm not surprised though, as we have so many happy memories attached to lovely Gerald the Giraffe.
The original 'Giraffes Can't Dance' story was one of the first picture books I read with Ivy when she was a baby and it is still a firm favourite. We were both so happy to receive this gorgeous new board book featuring all over our favourite characters.
The beautiful rhyme, written in Giles Andreae's signature style, celebrates all of the ways which love can make us feel. Our favourite line is:
'You make me want to somersault and leap up in the air.
You make me want to sing and skip and boogie everywhere!'
Gorgeous! The poem is accompanied by lots of joyful illustrations showing Gerald and his jungle friends dancing and swaying in the moonlight. Ivy likes to get up and act out the little routines as we read!
It's a book with universal appeal as it works as a gift for both children and adults. It's perfect for introducing babies to the wonder of Gerald and will definitely warm the hearts of existing fans.
Buy from Bookshop.org and support independent bookshops: https://uk.bookshop.org/a/155/9781408364833
Buy from Amazon UK: https://amzn.to/3k1xTzf
Note these are affiliate links and Ivy's Library will receive a small commission if you choose to purchase through them.
Disclosure: The publisher provided us with a copy of this book in exchange for an honest review.