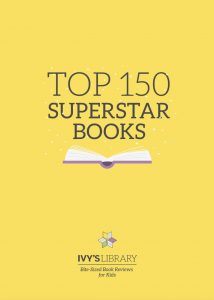 We are officially launching an Ivy's Library newsletter to celebrate our love of children's literature. All subscribers will receive a free 15 page PDF featuring some of our top picks. Squee!
Why are we launching an Ivy's Library newsletter?
We share daily children's book reviews and features on our blog www.ivyslibrary.com and also on Facebook, Instagram and Twitter – but because of the nature of social media you probably aren't seeing all our posts. Subscribing to our newsletter means you won't ever miss out on the good stuff!
What does it entail?
Once a month we will hit up your inbox with a curated selection of children's book reviews, interviews, opinion pieces, special offers and other treats. Some of it will be content we've shared on our social media channels but there will also be extras which are exclusive to newsletter subscribers. The first newsletter will be sent in February and of course you can unsubscribe at any time.