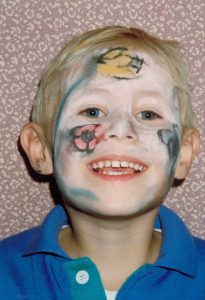 Hello Ian! Thank you so much for chatting to me about your debut book 'Nen and the Lonely Fisherman.
Could you give us a little overview of what the book is about?
At its heart, Nen and the Lonely Fisherman is about hope and finding that someone special in your life. Nen spends his days exploring his underwater kingdom, but is lonely and wants more from his life. He ventures to the surface and meets a lonely, quiet fisherman who spends his days looking after the beaches. But Nen's father, Pelagios, is furious that his son is spending so much time with a human – humans are destroying his precious oceans. So, he creates a terrifying sea storm and Ernest is thrown into the waves. Can Nen save him and can they convince Pelagios that two people from two very different worlds can be together?
What inspired you to write this story?
I was actually sitting outside on our garden bench at the beginning of the first lockdown, reading a collection of poems called Wain, by Rachel Plummer. They are LGBT+ re-imaginings of Scottish myths and legends and it reminded me very much of my childhood. I LOVED mermaids as a child and was OBSESSED with them! There was something about escaping into their magical, mysterious world that excited me. I spent so much time as a child writing stories about mermaids, where I had underwater adventures with them! I was also very conscious that we desperately need to make the LGBT+ community more visible in children's stories. We need picture books that celebrate and honour our lives and our struggles. I wanted to write a book that highlighted a same-sex relationship, whilst also normalising it.
The Little Mermaid is one of my daughter's favourite fairy tales, so she was utterly fascinated by your modern reimagining. Is there a reason you chose this particular story as your base?
I think mermaids have always been closely linked with the LGBT+ community, and specifically the story of The Little Mermaid. As a child who felt very different and as a gay teenager growing up under the shadow of Section 28, I felt a great connection with this story. The Little Mermaid is desperately unhappy living in a world that doesn't seem to want her or accept her and must fight for her freedom and happiness. I think a lot of us can relate to that! As a child, the Disney version of the film was the first time I remember being absolutely thrilled and amazed in the cinema. I vividly remember the scene at the beginning of the film where we as the audience are plunged into the ocean and swim down, down, down into a glimmering, beautiful sunken city. What was difficult for me was to reimagine the story for today's children rather than just re-tell it. I wondered what differences I might like to have seen as a child and how Nen and Ernest might behave in today's world.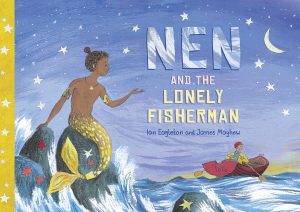 James Mayhew's illustrations of Nen and Ernest are beautiful. How did you feel when you saw the final version of the book?
There have been A LOT of tears along the way! When I first saw James's rough drafts I was blown away – they were stunning and so dramatic! Sam from Owlet Press has worked with us both so closely to create this beautiful, magical world and he rang me one evening to say he had the final illustrations and would I like to see them. I think he got a few pages into showing me and I began to cry and didn't stop! James's illustrations are full of such warmth and tenderness and somehow manage to feel classic and very crisp and fresh too. It has been wonderful seeing the characters and their world brought to life by James.
Have you always wanted to write children's books?
I loved writing as a child. I remember a teacher in Year 5 or 6 letting me use the class computer for a whole afternoon (this was a very fancy thing when I was ten and computers weren't as common in classrooms!) to write my own children's book. Ive taught for 13 years and have always loved writing with children in class and modelling to them how to create stories, and newspaper reports, and poems, and playscripts. I used to write stories for my Year 3 and 4 children and read them to them, watching their faces to see when they were engaged and when they were switching off! I began writing children's picture books seriously when I was 28 and it's taken 6 years to be published! It's a long, hard road to publication and I think you need to have determination and a very thick skin, as there's so many knock-backs along the way! Each time I got a rejection, I would go back to the manuscript and edit and improve it. I actually sent Nen and the Lonely Fisherman off to Owlet Press and they rang the next day and suddenly, after all the waiting, everything started to happen very quickly!
What do you think are the key ingredients for a great picture book?
I personally love it when the pictures tell a different story to what the words are saying – it means that children love going back and re-reading them. For example, I think Rosie's Walk by Pat Hutchins is a masterpiece! I also think great picture books never talk down to children and can tackle and deal with quite complex themes in an accessible and engaging way. Great picture books are also simple, clear and allow lots of space for the young reader to imagine and create their own worlds. I love the Fan Brothers and their gorgeous picture books and I'm also a big fan of picture book authors and illustrators like Catherine Emmett, Jessica Love, David Litchfield and Rashmi Sirdeshpande. My Daddies by Gareth Peter and Garry Parsons is a wonderful new picture book full of warmth and happiness!
Do you recall your favourite picture books from when you were a child?
Oh yes! My Mum read to us every night and I have very happy memories of snuggling up under the duvet and being read lots of lovely picture books. I LOVED all the Alfie and Annie-Rose books by Shirley Hughes – she captures the thrill and happiness of childhood so beautifully. I still remember Garth Pig and the Icecream Lady by Mary Rayner and can still recite my favourite part from it. It was something about the rhythm, rhyme and humour in this book that appealed to me. We were very lucky as children to be surrounded by books!
Thank you so much for taking the time to talk to us! If any of our readers want to find out more, where can they find you? 
My Twitter is @MrEagletonIan and my website is thereadingrealm.co.uk. You can also find Nen and the Lonely Fisherman in your local, independent bookshop. We are so lucky that so many small bookshops have got behind us and would love you to find our books in shops like Moon Lane, Chicken and Frog, Gay's the Word, Pickled Pepper, QueerLit and Rocketship Books!
Thanks so much for having me! It's been MER-MAZING!
Nen and the Lonely Fisherman by Ian Eagleton and James Mayhew is published by Owlet Press, out on 1st June. www.owletpress.com
You can read our review of Nen and the Lonely Fisherman here.