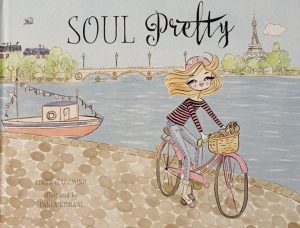 This pretty little book teaches children about values and what it means to be beautiful on the inside.
The delicate illustrations show a young girl as she makes a journey on her bicycle. As she navigates the hills, valleys and tiny cobbled streets of her life we learn how to stay positive, how to treat others well and how to shine in a world which sometimes seems to be working against you.
Each page takes a different value and breaks it down so a child can understand what it means and the benefits it can bring. It covers integrity, harmony, honesty, optimism, attitude, self-respect, sincerity, wisdom, charisma, grace, gratitude, self-acceptance, confidence, loyalty, love and patience – all values which I am sure we'd like to instil in our children as they grow up!