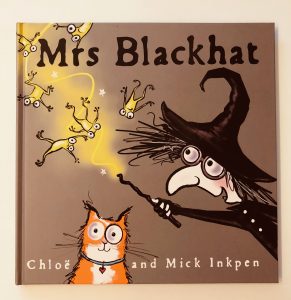 Our favourite book this Halloween has been Mrs Blackhat by Chloe & Mick Inkpen. Ivy LOVES it and I've easily read it 2-3 times a day in the last week!
Mrs Blackhat is a witch whose life definitely has a colour scheme. Everything is black – her clothes, her broom, her cauldron, her house – except for one thing. She has a ginger cat!
She finds this splash of colour extremely irksome so she sets out to find a way to transform her cat so that he's more in keeping with her witchy style. Being somewhat of an online shopping addict she hops on her laptop and orders some potions and spells from her favourite site. However when they arrive they don't quite perform as they should.