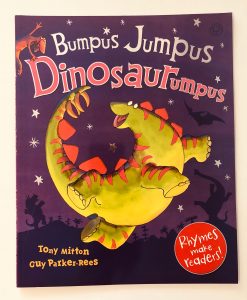 If you have a child who rejects story time because they don't like to sit still then Bumpus Jumpus Dinosaurumpus might be the book that you're looking for. The infectious rhyme encourages your child to dance around and I defy anyone to read this aloud without wiggling a little themselves!
The story introduces you to a whole host of dinosaurs as they take part in a Dinosaurumpus – a noisy, bouncy and frankly bonkers celebration of who they are. They twizzle, spin, bomp and stomp together until they hear a giant roar. What on earth is making that scary noise and will it want to eat them up or just join in the fun?
We've read this one so many times that Ivy joins in with the 'chorus' and bangs the sofa like a drum in time with they way I read the rhyme. We started off just reciting it but these days it's more like (extremely amateur!) performance art as I rap the lyrics (badly) and she bounces up and down and squeals with delight. It's definitely not a bedtime book in our house!
The colourful illustrations add to the overall sense of frenzied movement and the dinosaurs practically jump off the page. I love the way Guy Parker-Rees manages to convey the total, dance-fuelled joy they feel just with the placement of the pupils in their eyes. Not sure how he does it but it's magic!
Buy it now: https://amzn.to/2Als4r1