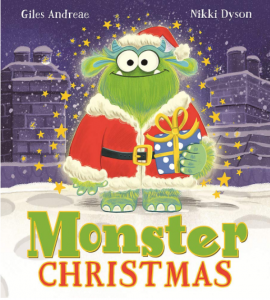 It's early December and Santa is feeling tired. Lifting heavy sacks of toys every year has taken its toll on his back and his knees so he thinks it may be time to retire. He carefully writes out a job ad for someone special to take over his role and throws it on to his magical fire.
At the exact moment the parchment hits the flames, someone else is making a big decision on the other side of the world. A little Monster from Monster Land is telling his parents that it's time for him to see the world and try to do some good. As he talks, Santa's letter drifts in to view and the Monster realises that this is the perfect opportunity for him to spread his wings.
In the North Pole Santa puts the monster through some rigorous training and soon he is ready to go out and spread some Christmas joy. Monster Christmas is about to be unleashed on the world! He's very excited but his first appearance at a Grotto doesn't quite go as planned. The children and parents take one look at his green fur and run away screaming.