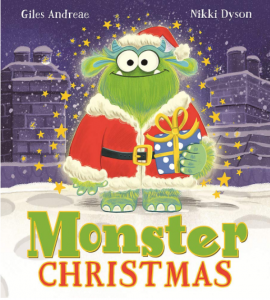 It's early December and Santa is feeling tired. Lifting heavy sacks of toys every year has taken its toll on his back and his knees so he thinks it may be time to retire. He carefully writes out a job ad for someone special to take over his role and throws it on to his magical fire.
At the exact moment the parchment hits the flames, someone else is making a big decision on the other side of the world. A little Monster from Monster Land is telling his parents that it's time for him to see the world and try to do some good. As he talks, Santa's letter drifts in to view and the Monster realises that this is the perfect opportunity for him to spread his wings.
In the North Pole Santa puts the monster through some rigorous training and soon he is ready to go out and spread some Christmas joy. Monster Christmas is about to be unleashed on the world! He's very excited but his first appearance at a Grotto doesn't quite go as planned. The children and parents take one look at his green fur and run away screaming.
News of Monster Christmas spreads far and wide and soon people are protesting and blocking up their chimneys. No one has even taken the time to talk to him but, based solely on his appearance, Monster Christmas has been judged as bad.
A sliver of hope appears in the form of an unexpected new friend, but will it be enough to overcome the people's prejudices in time for Christmas?
This is a fabulous story which perfectly balances humour and joy with a more serious message about bias and the need for kindness. It's written in rhyme and is a joy to read aloud, which isn't surprising as it's written by the author of the the fabulous 'Giraffes Can't Dance'
The illustrations are colourful and ridiculously cute. Ivy really enjoys looking at all of the detail, particularly the Christmas cards on Santa's fireplace and the decorations in Monster Christmas' house!
Buy from Bookshop.org and support independent bookshops: https://uk.bookshop.org/a/155/9781408357620
Buy from Amazon UK: https://amzn.to/3fICyDV
Note these are affiliate links and Ivy's Library receives a small commission if you choose to purchase through them.
Disclosure: The publisher provided us with a copy of this book in exchange for an honest review.