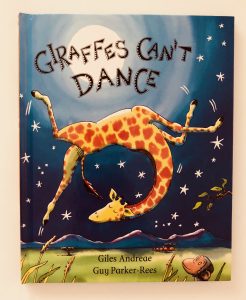 I have been reading this wonderful book to Ivy since she was just a few months old and this is our second copy as the first was so well-thumbed that it had started to fall apart! It's written by Giles Andreae and illustrated by Guy Parker-Rees.
Gerald is a giraffe whose skills include standing still and eating leaves from tall trees. They don't include running and they most definitely don't include dancing, which is a shame as every year all of the animals get together for the Jungle Dance and everyone has to take part.
On the night of the big Dance, Gerald watches the warthogs, rhinos, lions, chimps and baboons take to the floor to roaring applause, but when his turn comes the reaction is very different. As soon as everyone sees him they start to laugh and call him names because they know he is so clumsy. Devastated, Gerald takes off in to the jungle where he meets a wise old Cricket who teaches him that everyone can dance – they just have to find their own song.
Can he take what he has learned and show the other animals exactly what he's made of?
The illustrations here are fantastic. The animals waltz right off the page and Gerald's wonderfully expressive face shows both his horror at being laughed at and the joy of realising that he is more than capable of dancing to his own tune.
I love the way the book promotes confidence and self-esteem. It teaches that you can't always be the best at everything but if you listen to your heart you can always find a way. You don't have to be the same as everyone else, you can achieve your dreams by following your own path. Just believe in yourself and do what makes you happy.
Buy it now: https://amzn.to/2uh3QtG