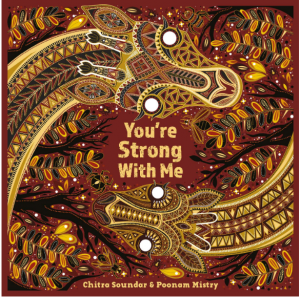 We were lucky enough to meet the lovely Chitra Soundar at an event at Moon Lane Ink last year so I was very happy when Lantana Publishing invited us to be part of the book tour for her newest title – You're Strong With Me.
This is the third book in a trilogy, all of which feature beautiful illustrations from Poonam Mistry. The previous books in the series are You're Safe With Me and You're Snug With Me and each one focuses on the wonderful bond between parent and child.
In this story we follow a mother giraffe and her calf through a day in the wild. The little giraffe encounters many things which make her scared or uncomfortable, like a hissing fire and a bird which pecks at her fur, but her mother is always there to reassure and comfort her.