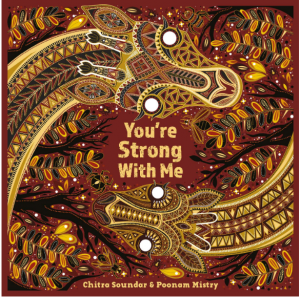 We were lucky enough to meet the lovely Chitra Soundar at an event at Moon Lane Ink last year so I was very happy when Lantana Publishing invited us to be part of the book tour for her newest title – You're Strong With Me.
This is the third book in a trilogy, all of which feature beautiful illustrations from Poonam Mistry. The previous books in the series are You're Safe With Me and You're Snug With Me and each one focuses on the wonderful bond between parent and child.
In this story we follow a mother giraffe and her calf through a day in the wild. The little giraffe encounters many things which make her scared or uncomfortable, like a hissing fire and a bird which pecks at her fur, but her mother is always there to reassure and comfort her.
The mother giraffe carefully explains what is happening and why the calf does not need to be afraid. She helps her understand the world around her. The calf learns that as she grows older she will know how to respond to each situation herself but that "Until then, you're strong with me".
I think that, as an adult, it's easy for us to forget how daunting new experiences can be for a small child. This book is wonderfully reassuring and shows how a safe environment can help nurture curiosity and understanding. It's perfect for snuggling at bedtime or when your child is need of some extra comfort.
Poonam Mistry's artwork always makes me misty-eyed because it's so beautiful, and this book is no exception. The rich colours and incredible detail hold Ivy's interest for a long time, especially as there are so many tiny little details to spot.
Now available in North American bookshops! Coming to UK bookshops on Oct 3. Or buy now from Lantana's website: 
www.lantanapublishing.com
 . For every book purchased on the website, Lantana donates a book to children's hospitals via Read for Good UK.
We also have a fantastic interview with Chitra and Poonam coming up on the blog tomorrow so please keep an eye out for that!
Disclosure: The publisher provided us with a copy of this book in exchange for an honest review.