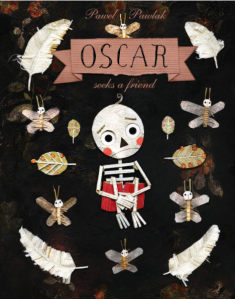 Oscar has lost a tooth and he's worried that this will stop him from making friends. It's tough being a skeleton at the best of times, but surely no one will want to play with him now when he looks so dreadful? Sad and lonely, Oscar resigns himself to the fact that his dog will probably be the only friend he ever has.
But then one day he spots a little girl burying a tooth in the ground. She has heard that doing so will make her dreams come true and what she wants more than anything is to find a friend. She agrees to give the tooth to Oscar if he will help her on her quest, so they join hands and set off together on an adventure.
Oscar and the girl spend the most wonderful day together, discussing what they would do if they each found a friend.  The girl shows him a rainbow and her favourite meadow. They smell the cut grass and talk of family and the seaside. Then Oscar leads her in to his own world which is dark and mysterious. They watch skeletons skate on the ice and listen to a strange creature with pointy teeth play the harp.