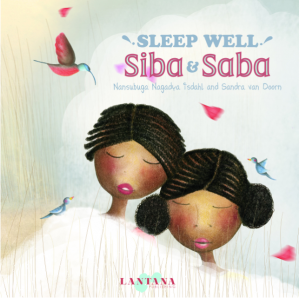 Siba and Saba are Ugandan sisters who are a tiny bit forgetful. They leave their sweaters on buses and their sandals at the beach. They leave slippers at sleepovers and sashes on safaris.  And every evening, when they go to sleep, their dreams are filled with the things they have lost.
But then one night something strange happens. Siba dreams of a silver shilling and Saba dreams of a school uniform. The girls wake in the morning feeling very confused. They have never lost these things, in fact they have never even had these things, so why have they infiltrated their dreams?
In the days that follow Siba and Saba discover that their dreams are now giving them hints of the future instead of the past. A future filled with books, knowledge, travel and adventure. A future beyond their wildest dreams.
This dreamy, whimsical book is a firm favourite in our house at the moment. The illustrations are enchanting and the story is well written, layered and thought-provoking. We have roamed the pages spotting all of the items which the girls have lost, we have talked about the nature of dreams and what they might symbolise and we have discussed the impact that schooling can have on a child's life.
As an adult, I love the underlying message that you need to let things go in order to embrace your future – and the very last page is so beautiful and filled with hope that it made me cry!
Buy it now: https://lantanapublishing.com/products/sleep-well-siba-and-saba-kids-book-on-race-books-for-girls-black-kids-books
Disclosure: The publisher provided us with a copy of this book in exchange for an honest review.