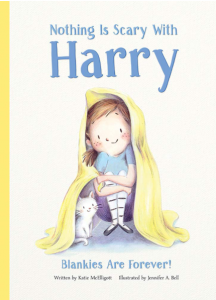 Does your child have a favourite blanket or soft toy which they can't live without? If so they'll definitely identify with the little girl in this beautiful story.
Katie has a yellow blanket called Harry. When she's cuddling Harry the world seems less scary so she takes him everywhere with her. He accompanies her on trips to the doctor, snuggles her during loud thunderstorms and nestles in her bag during difficult school tests. She's ready to take on the world with Harry at her side because he comforts her and makes her feel safe and strong.
However not everybody understands Katie's relationship with Harry. An old lady at the supermarket tells her that blankets are for babies, a boy at school points at her and laughs, and eventually even Katie's mum thinks that perhaps it's time for Harry to be packed away.
But brave Katie stands her ground and eloquently explains why she thinks Harry should be able to stay. In fact, Harry stays with her for many years, until one day she passes him on to someone very special indeed…