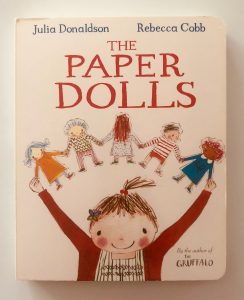 We discovered this gem in our local library about 18 months ago and Ivy loved it so much that I bought us a copy that same week. The story is beautiful and I'm not ashamed to say that I bawled my eyes out the first time I read it!
This lovely book is about a little girl whose Mummy makes her a set of 5 paper dolls. She gives them names, plays with them constantly and invents a little song for the dolls to sing about their friendship.
In the girl's vivid imagination the paper dolls do battle with dinosaurs, tigers and crocodiles. They explore magical islands (on the breakfast table) and dance through forests (in the garden).
Together they come through every adventure unscathed. Until one day they encounter a little boy with a pair of scissors and suddenly the dolls are no more.
However the little girl learns that when you truly lovely something it is never really lost to you. We see the paper dolls fly in to her memories and take up residence with all the other things that are no long part of her every day life, like her kindly grandma, some goldfish and mislaid toys.
Rebecca Cobb's fantastic illustrations bring the whole thing to life and we love looking at all the details – particularly on the pages which depict the little girls memories.
This is a fantastic book which is in our all-time top 5. Highly recommended!
Buy it now: https://amzn.to/2QKD6w8