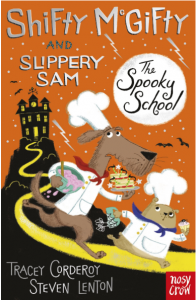 We are massive fans of the Shifty McGifty and Slippery Sam picture books so we were very excited to discover that there are chapter books too!
Shifty and Sam are two loveable dogs who used to live a life of crime. These days they are reformed characters who have swapped robbing banks for baking cakes and catching bad guys. In 'The Spooky School' they use their skills to solve a series of wacky mysteries.
Each of the books is divided in to three stories and each story has four short chapters which makes them perfect for bedtime reading. We'll usually read two chapters per night but if Ivy is particularly tired we'll drop this down to just one.
The stories in this volume are: