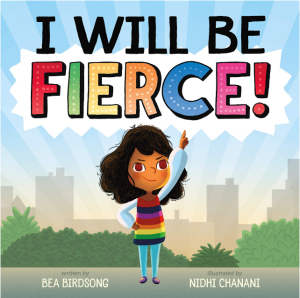 I love picture books where the words and illustrations work in opposition and 'I Will Be Fierce!' is the best example I have seen.
The pictures show a young girl moving through an ordinary day at school but the words are those of a fierce knight going in to battle, determined to make the world a better place. The result is a powerful narrative which teaches children that they can be the hero of their own story.
At the start of the day we see the protagonist don her armour (a stripy jumper), fill her treasure chest (a rucksack of books)  and head out in to the world. On her way to school she fearlessly faces monsters (dogs), giants (older children) and a dragon (the school bus). The day continues in this wonderful manner as we encounter more mythical beasts (like the Guardian of Wisdom – the school librarian) and battle against doubt and injustice.
The little girl's positivity and courage is palpable as she chooses time and again to be kind, to stand up for others and to make her voice heard. She believes in herself and her abilities and the message is clear – so should you!
This is a wonderful book which touches on key themes like courage, friendship and the importance of self-belief. The school setting makes it ideal for a child who is nervous about starting school or switching to a new one.
Buy it now: https://amzn.to/2CA2zX3