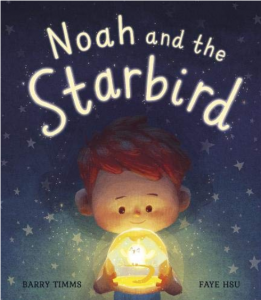 You'll need to get your tissues ready for this heartwarming and truly uplifting book about showing courage and kindness during difficult times.
When Noah's Daddy is rushed to hospital the little boy is sent to stay with his grandmother. Naturally he is scared and confused but he finds comfort in an old lamp which has been placed in his bedroom. Shaped like a baby bird, the lamp emits a warm and soothing light and Granny lets slip that she thinks it might have magical properties.
Later that night Noah finds himself unable to sleep. He tosses and turns, worrying about his Dad, until something wonderful happens. The glowing bird leaps from its perch and flutters over to the bed. She introduces herself as the Starbird and gently talks to him until he feels calmer. She offers up a glowing feather to help him feel brave and Noah starts to feel a little better.