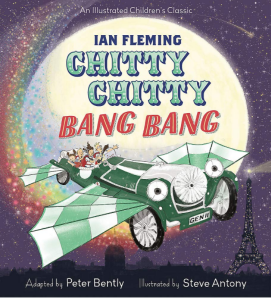 This gorgeous adaptation of Ian Fleming's original Chitty Chitty Bang Bang story has made me super nostalgic. I loved the movie as a kid so it has been wonderful watching Ivy absorb the story then wing her way around the house pretending to fly, yelling 'Chitty Chitty Bang Bang' as she goes!
Fortunately there is no evil childcatcher here to give her nightmares as the movie strayed considerably from the original story.
Jeremy and Jemima Pott live in a rundown house with their mum and dad. They don't have much money until one day their dad invents 'Toot Sweets' which become an overnight sensation. Now considerably richer, they set off to buy a car and  are all drawn to a sad-looking racing vehicle which is rusting in the corner of the garage.
It takes weeks to whip the car back in to shape but it is definitely worth the wait. She is shiny and beautiful and when Dad starts the engine she splutters out her name "Chitty! Chitty! Bang! Bang!". The family decide to test her out on a visit to the beach, and they end up having the most unusual day!
When they hit some traffic a little knob flashes on the dashboard saying 'Pull Me!' and soon they are flying through the sky leaving the other cars far behind. Chitty flies them to a deserted beach where they lie in the sun, splash in the sea and eat a delicious picnic. Later, Chitty transforms in to a boat and sails them out to sea. Somehow they end up crossing the Channel and find themselves on a beach in France where they drive in to a cave to avoid the rising tide. But the cave leads right in to a bank vault full of gold, which is being loaded into the back of a van by some shifty looking folk in black and white stripy tops…
Can the family stop the robbery and save the day?
Created in collaboration with the Ian Fleming Estate, this wonderful picture book is the perfect introduction to Chitty Chitty Bang Bang. Ivy is entranced by the fast-paced story and the idea of a flying car has really sparked her imagination. Her toy cars and dolls now regularly go on airborne adventures and she's very keen to try a toot sweet!
Buy it now: https://amzn.to/3hBXhIK
Disclosure: The publisher provided us with a copy of this book in exchange for an honest review.