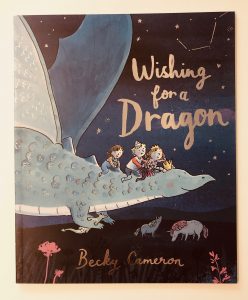 It's almost time for bed but Olive, Barney and Ella aren't ready just yet. They want to go on one last adventure before they fall asleep! Olive wants to go to the jungle, whilst Barney wants to head out in search of treasure. And Ella? Well she would secretly really like to see a dragon.
The three friends hop in to a giant hot air balloon which has magically appeared outside their window and then whoooosh, they're off!
Their first stop is a pirate ship which they eagerly explore, but their time is cut short when the crew decide they don't want to share their treasure. Next they float down in to the jungle but a hungry tiger makes them a little nervous about staying. This adventure really isn't working out as planned and poor Ella still hasn't see a dragon!