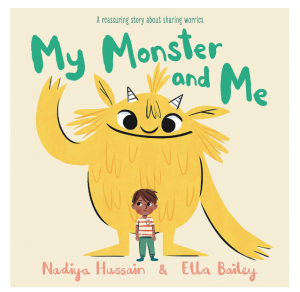 Anxiety is one of the most common mental health conditions experienced by children but it can be a difficult topic to discuss with someone who is too young to put their feelings in to words. This book uses the metaphor of a monster, albeit a friendly yellow one, to help kids understand.
At the start of the story a young boy introduces his monster and explains that it has been around for as long as he can remember. It's large, loud and bossy, and it often gets in his way when he's trying to enjoy himself. When his parents are around the monster hides so he doesn't feel like he can talk to them about it, but he really wishes it would go away.
One day it all becomes too much and he opens his heart to his grandmother. In tears, he tells her all about the intolerable monster and how it just won't leave him alone – but as he talks, something special happens. The monster starts to shrink! As the words tumble from his mouth the monster gets smaller and smaller until eventually he can pick it up and pop it in his pocket. Although he knows the monster will always be there, the little boy now knows that he is in control rather than the other way around.
This is a fantastic book as it can be read on two levels. Smaller children will just see it as an enjoyable story about a little boy and his monster but there's a whole other layer to explore once they're around 4+. It's a great way to gently explain how anxiety feels, encourage children to speak up about their emotions and to help them understand how they can tame their own 'monster'.
The illustrations are warm and comforting and I love the way so much emotion is conveyed via the character's eyes. I am also a big fan of the fact the protagonist is male, showing that both boys and girls can cry and express their emotions.
Buy from Bookshop.org and support independent bookshops: https://uk.bookshop.org/a/155/9781444946444
Buy from Amazon UK: https://amzn.to/391Fp6d
Note these are affiliate links and Ivy's Library will receive a small commission if you choose to purchase through them.