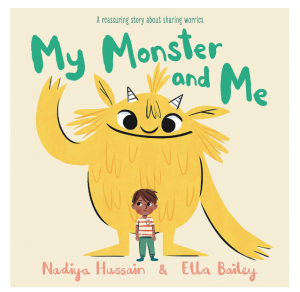 Anxiety is one of the most common mental health conditions experienced by children but it can be a difficult topic to discuss with someone who is too young to put their feelings in to words. This book uses the metaphor of a monster, albeit a friendly yellow one, to help kids understand.
At the start of the story a young boy introduces his monster and explains that it has been around for as long as he can remember. It's large, loud and bossy, and it often gets in his way when he's trying to enjoy himself. When his parents are around the monster hides so he doesn't feel like he can talk to them about it, but he really wishes it would go away.
One day it all becomes too much and he opens his heart to his grandmother. In tears, he tells her all about the intolerable monster and how it just won't leave him alone – but as he talks, something special happens. The monster starts to shrink! As the words tumble from his mouth the monster gets smaller and smaller until eventually he can pick it up and pop it in his pocket. Although he knows the monster will always be there, the little boy now knows that he is in control rather than the other way around.