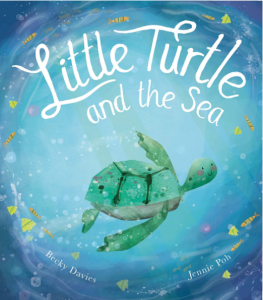 As the rain beats down on a sandy beach, Little Turtle pushes her way up and out of her nest and gets her first view of the world. Instinctively she moves quickly towards the waves and soon she finds herself swimming in the ocean which will become her home.
As she grows and becomes more confident she marvels at the beauty she sees around her. The bright colours, glittering shoals of fish and reefs teeming with life all delight her senses and make her feel so happy to be alive. The ocean is her very best friend.
When Turtle matures she returns to the beach where she was born to release her own clutch of eggs on the sandy shore. She makes this journey many times and she loves the fact that each journey is different because her beautiful ocean is always changing, always offering something different for her to behold.