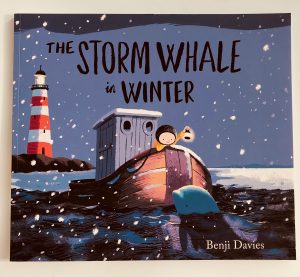 We loved The Storm Whale by Benji Davies and recently purchased this sequel – The Storm Whale in Winter. It does not disappoint!
In the original story a little boy called Noi saves a young whale who washes up in the beach during a storm – however in this book it is the whale who comes to the rescue.
Winter is setting in and Noi's dad (a fisherman) decides to take his boat out on one last trip, but he doesn't come back. Noi heads out over the frozen sea to find him but soon finds himself lost and stuck.
Enter the little Storm Whale who appears with his whole family to rescue poor Noi. Together they work to find Noi's dad – but where could he be?
A gorgeous tale of friendship and bravery
Buy it now: http://amzn.to/2npHQJQ