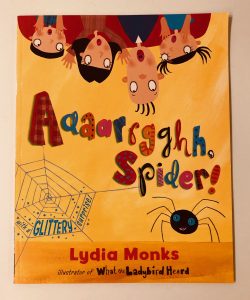 The little spider in this book is very lonely – all he wants is a family of his own. So the enterprising little fellow finds a family he likes and sets about trying to become their pet. The problem is that they're all scared of spiders!
He tries to impress them with his dancing, he shows them how nice and clean  he is by hanging out in the bath and he builds a web and catches flies to prove he's self-sufficient and can feed himself. However every time they seem him they yell 'Aaaarrgghh! Spider!' and throw him back outside.
Feeling defeated, the poor lonely spider decides to set up house in their garden instead and builds himself a giant sparkly web. Will this be the final straw for the family or will they see the spider as a potential pet after all?