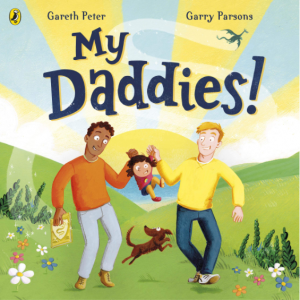 We are totally besotted with this beautiful rhyming story about a little girl, her two daddies and their shared love of stories.
Every day this little family read a book and go on a new adventure. One day they might be battling dragons and on the next they could be blasting off to the moon or sailing around secret islands. There is no limit to their imaginations! Together they devour page after page, but there is one tale that holds a special place in their hearts – the adoption story which brought their family together.
The little girl explains to us that all families are diffferent and she is lucky to have two super daddies who chose her. Daddies who make her smile when she's sad, provide lots of cuddles and chase away her fears.
The accompanying illustrations capture both moving and humorous scenes from their family life. Mixed in with the snuggles and the all-important bedtime stories we see bathtime bubble beards, failed attempts at crafts and the stricken face of a child who really doesn't want to eat her vegetables!
This is a wonderfully inclusive story which teaches children that while all families are different, the love they feel is the same. It also allows the children of same-sex parents to see themselves joyfully represented on the printed page.
Buy from Bookshop.org and support independent bookshops: https://uk.bookshop.org/a/155/9780241405772
Buy from Amazon UK: https://amzn.to/3ipPFNp
Note these are affiliate links and Ivy's Library will receive a small commission if you choose to purchase through them.
Disclosure: The publisher provided us with a copy of this book in exchange for an honest review.