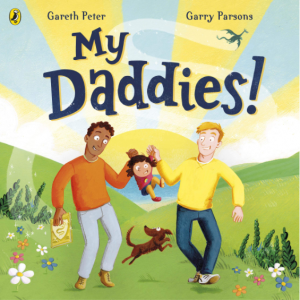 We are totally besotted with this beautiful rhyming story about a little girl, her two daddies and their shared love of stories.
Every day this little family read a book and go on a new adventure. One day they might be battling dragons and on the next they could be blasting off to the moon or sailing around secret islands. There is no limit to their imaginations! Together they devour page after page, but there is one tale that holds a special place in their hearts – the adoption story which brought their family together.
The little girl explains to us that all families are diffferent and she is lucky to have two super daddies who chose her. Daddies who make her smile when she's sad, provide lots of cuddles and chase away her fears.