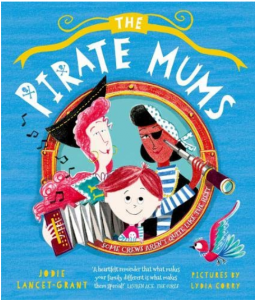 Here is another great pick for Pride Month – The Pirate Mums by Jodie Lancet-Grant and Lydia Corry. It's a swashbuckling adventure about pirates, the high seas and slightly embarrassing parents.
Billy's family is a little bit different and sometimes this can be hard. He worries a lot about what his friends might think and sometimes just wishes his parents were a tad more 'normal'. Why? Well his two mums have a penchant for all things piratey. They sing sea shanties all day long, they take their pet parrot for walks, they decorate the house with fishing nets and insist on using smelly old maps. They are SO EMBARRASSING!
When Billy's teacher announces that the class will be going on a trip to the seaside and taking a boat ride, naturally his mums volunteer to help. The little boy is mortified because he knows his friends will make fun of their pirate-led fashion sense and their fondness for words like matey, scallywag and buccaneer.
The big day arrives and Billy is feeling very nervous, but in an unexpected turn of events the class find themselves onboard a sinking ship in the middle of a furious storm. As his mums put their pirate expertise to good use Billy starts to realise that maybe they aren't that embarrassing after all…
I loved everything about this clever book. It draws children in with its keen sense of adventure but there's a subtle and very important message about acceptance throughout. The fact that Billy has two mothers is incidental and has no bearing on the plot. It's just a fantastically fun story about a child who wishes his parents were a bit more like everybody elses – something that many kids will recognise!
The book helps normalise same-sex relationships and is a great tool for showing kids that all families are different. For slightly older children it's also a great springboard for talking about the prejudice which LGBT+ individuals and families may experience.
Buy from Bookshop.org and support independent bookshops: https://uk.bookshop.org/a/155/9780192777799
Buy from Amazon UK: https://amzn.to/3xPtuF0
Note these are affiliate links and Ivy's Library will receive a small commission if you choose to purchase through them.
Disclosure: The publisher provided us with a copy of this book in exchange for an honest review.