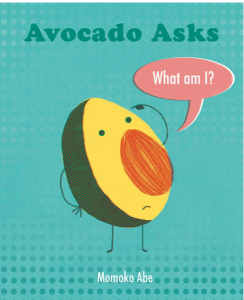 Avocado lives on the fruit and vegetable aisle at the supermarket. Life is nice and simple until one day the nature of his whole existence is thrown in to question by a small child. She points at him and asks her mum whether an avocado is a fruit or a vegetable.
Suddenly Avocado is thrown in to confusion. He doesnt know the answer. How can he not know who he really is? Determined to dscover his true identity, Avocado turns to his friends for help.
First stop is the vegetables, who decide he can't possibly be one of them because he's not leafy or crunchy and he has a big stone in his middle like a fruit. So next he visits the fruit, but they say he's not one of them either. He's not sweet or juicy and he wouldn't taste right in a fruit salad.