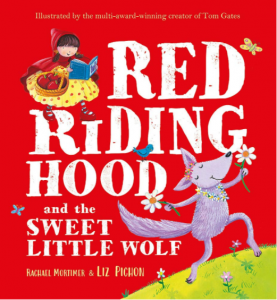 What would the story of Little Red Riding Hood have looked like if the wolf was a peace-loving creature with a penchant for frills and fairy tales? Let's find out! This adorable book takes the well-known traditional tale and turns it in to brand new story which Ivy absolutely loves.
Deep in the woods there lives a family of wolves. The mother and father wolf are very big and very bad, so they're a little confused by their child's sweet nature. Their Sweet Little Wolf is happiest when she's reading books and twirling through the trees decked in flowers and frills. She has no interest in being big or bad at all.
One day they decide the time has come for the Sweet Little Wolf to become a 'real' wolf and they send her off with a shopping list for their dinner. Along with the onions, carrots, potatoes and rosemary, she must find a tender and juicy little girl…
The Sweet Little Wolf waltzes in to the woods and soon encounters Little Red Riding Hood. She starts to follow her but soon becomes distracted when the girl begins to read aloud from a book. Caught up in the wonder of the story, the Sweet Little Wolf forgets all about her chores and she happily trails the girl all the way to Grandma's house. When she gets there she spies a beautiful pink, frilly nightgown and can't resist trying it on.
But when Little Red Riding Hood spots the Wolf everything starts to go haywire. Will she bow to parental pressure or will she find the courage to be herself?
This is such a fun story with a great underlying message for children. It encourages them to follow their heart and be true to themselves, even when the world expects them to be something else.
Buy from Bookshop.org and support independent bookshops: https://uk.bookshop.org/a/155/9781444955644
Buy from Amazon UK: https://amzn.to/3njVQC1
Note these are affiliate links and Ivys Library receives a small commission if you choose to purchase through them.
Disclosure: The publisher provided us with a copy of this book in exchange for an honest review.