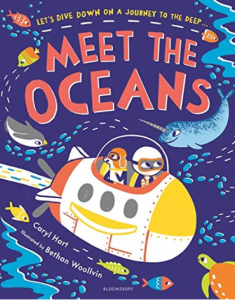 Geography was never my favourite subject at school but if our textbooks had looked anything like this beauty from Caryl Hart and Bethan Woollvin then I suspect I may have paid more attention!
At the start of this gorgeous rhyming story we hop on board a submarine with a little girl and her dog. Together we embark on a journey to see the world's oceans, but this is no ordinary tour as the guides are the waters themselves.
First we meet the Arctic Ocean, who smiles as she speaks of her pride at being the smallest. She shows us her narwhals, her beluga whales and the polar bears who inhabit her ice. Next is the choppy Atlantic who tells us about her underwater mountains and hidden caves. Our submarine glides past blue fin tuna in the Indian Ocean, sea snakes in the Coral Sea and millions of pieces of plastic in the Pacific.