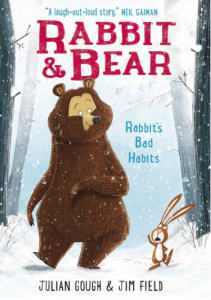 It's time for another chapter book review and this one is the first in a fab series which will have your kids laughing out loud!
Bear wakes up early from hibernation to discover that someone has sneaked in to her cave and stolen all of her food. How rude! But Bear is a 'glass half full' kind of girl so she decides to make the most of her early start by building a snowman.
Whilst rolling the snow into a suitable shape she encounters a rabbit who doesn't quite share her joyful view of the world. Rabbit is grumpy and he wants everyone to know about it. Rabbit has never built a snowman but he knows that if he did it would definitely be better than Bear's!
As the two busy themselves on their creations they start to talk and Rabbit gives Bear a rundown on how awful it is to be a bunny. He even lets slip that he has to eat his own poo!
It's clear that the two animals are total opposites, but when a hungry wolf appears they discover that they make a great team. Could this be the start of a beautiful friendship?
If you're looking for stories which bridge the gap between picture books and chapter books then this series is perfect. There are illustrations on every single page and the prose is fast-paced and very, very funny.  It's just over 100 pages long, which would usually mean I split it up so that we read it over five nights – but I enjoyed reading it aloud so much that we devoured it in two sittings!
Buy from Bookshop.org and support independent bookshops: https://uk.bookshop.org/a/155/9781444921687
Buy from Amazon UK: https://amzn.to/3n8Ef01
If you're in the market for more early chapter books like this then I have just created a new list on our Bookshop.org store. You can find it here: https://uk.bookshop.org/shop/ivyslibrary
Note these are affiliate links and Ivys Library receives a small commission if you choose to purchase through them.