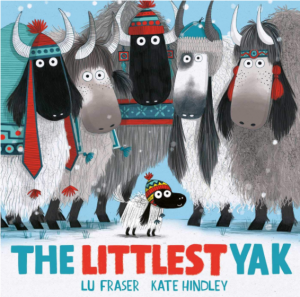 Ivy and I read A LOT of books together, so when one comes along which truly captures her heart I know that it must really be very special. She is utterly entranced by 'The Littlest Yak' and I have to say I think it's one of the best books we've read this year.
The gorgeous story follows a tiny little yak called Gertie who is fed up of being the smallest animal in the herd. She looks at the big yaks with their big horns and their big hooves and she wants to be just like them – but growing up takes such a long time!
Determined to speed up the process, Gertie comes up with a plan. She exercises, eats lots of vegetables and practises clip-clopping up mountains. She even reads lots of books to try and make her thoughts grow! But despite all her efforts, she remains the same size.
As a salty little tear rolls down her cheek she hears a commotion. The largest yaks in the herd are all running towards her and shouting that they need her help. Gertie is confused – she's not big or strong so why would they possibly need her in an emergency?
Soon Gertie finds herself leading a dramatic rescue mission up a precariously narrow path. Her small stature, nimble hooves and tiny horns mean that she's the only yak suited to the job. What will she find at the top of the mountain and will she finally learn that you don't have to BE big to DO big things?
Honestly, everything about this story is perfect. Gertie is a wonderfully endearing character and the illustrations are warm and inviting – but the thing which stands out most is the writing. The rhyme scheme and choice of vocabulary is absolutely spot on. I was amazed to discover that this was Lu Fraser's first picture book as she writes with the confidence of someone who has been doing this for years. Watch out Julia Donaldson – there's a new contender for your crown!
Buy from Bookshop.org and support independent bookshops: https://uk.bookshop.org/a/155/9781471182617
Buy from Amazon UK: https://amzn.to/2KXKSV9
Note these are affiliate links and Ivy's Library will receive a small commission if you choose to purchase through them.