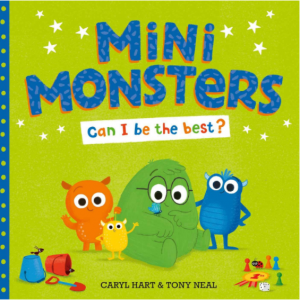 Since Ivy started school last September we've had some struggles with perfectionism. If she's not immediately the best at something then she gets disheartened and doesn't want to try. It's an uphill battle but, as always, we've found books really helpful to try and put things into perspective for her.
This new title in the Mini Monsters series has therefore come at just the right time for us. We both loved the first book – 'Can I Play?' – so Ivy was very excited to see a new story with familiar characters.
Scout, Sparkle, Arthur and Tiny are back once again and, having worked out how to play nicely together in book one, they have a brand new pres-school problem. They each want to be THE BEST.