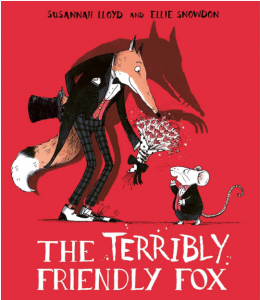 If your child likes books with a dark sense of humour then I'd highly recommend you have a look at this one!
It's time for the Annual Woodland Creatures' Ball and the little Mouse host has been busy getting his house ready for the occasion. He's over the moon when a throng of guests appear but is somewhat surprised when a Fox turns up wearing a tuxedo and clutching a bunch a flowers. The tiny animals are all very concerned because the fox has something of a reputation, but when he explains that he's a reformed character (and a vegetarian!) their worries ease. The fox joins the festivities and soon everyone is having a lovely time.
Gerald the Fox turns out to be the life and soul of the party. Who knew a fox could be so much fun? He proposes a toast over dinner, he sings, he makes balloon animals, he starts a game of musical chairs and even performs some magic tricks. The Mouse is really impressed with his guest (and will definitely be inviting him again next year) but as the evening draws on he starts to get a little concerned that some of his revellers seem to have left the party early. At least that's what he presumes…
Meanwhile Gerald is encouraging the remaining animals to dance the conga and play hide and seek. But is it me, or does his tummy look a little more rounded and his waistcoat a little stretched?
This is a fab story with a wicked sense of fun. The gorgeous illustrations cleverly show how raucous the party is, whilst also subtly hinting that Gerald may not be quite what he seems!
The first time we read it together it took Ivy a little while to click – but then she spotted the fox's bulging belly and gasped! Of course we then had to go back to the beginning and read it 3 more times and each time she noticed new details which added to her enjoyment and understanding of the story. It feels like a book she will come back to time and again.
Buy from Bookshop.org and support independent bookshops: https://uk.bookshop.org/a/155/9781471165610
Buy from Amazon UK: https://amzn.to/2pv4chy
Note these are affiliate links and Ivy's Library will receive a small commission if you choose to purchase through them.
A huge thank you to Lucy at The Catchpole Agency for kindly sending us a copy of this book