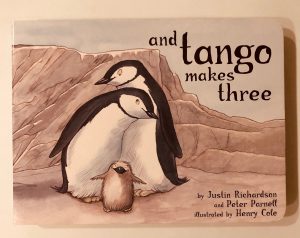 This gorgeous classic tells the true story of two very special male penguins at Central Park Zoo.
Choosing to ignore the female penguins, Roy and Silo are inseparable. They sing together, bow to each other and go on little strolls around the penguin enclosure. When they see the other penguins pair up and build a nest of stones they do the same and snuggle up to sleep. Soon however they see that the other penguins all have eggs in their nests. They watch as the eggs grow then hatch, and they want a baby penguin of their own.
Clever Roy spots a large round stone which looks just like an egg. He brings it home to Silo and they pop it in their nest. For days and days they take turns sitting on the egg, just as they have seen the other penguins do, but no baby penguin appears.
Fascinated by their behaviour the zookeeper takes a lone egg and places it in to their nest. Roy and Silo take very good care of it and when the egg hatches they are completely enamoured with their new arrival – the very first penguin in the zoo to have two daddies.
This lovely book helps normalise same-sex relationships and shows that the love between Roy and Silo is no different to the love shown between the other penguin couples. It's perfect for a child who may just be starting to ask questions about LGBT family members or friends.
Buy from Bookshop.org and support independent bookshops: https://uk.bookshop.org/a/155/9781847381484
Buy from Amazon UK: https://amzn.to/2BFeoaB
Note these are affiliate links and Ivy's Library will receive a small commission if you choose to purchase through them.