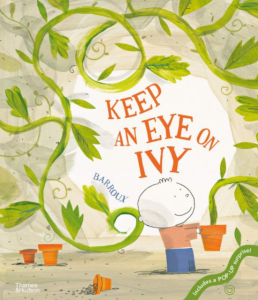 I spotted a review of this one a few weeks ago and as soon as I saw the title I had to buy it. Ivy loves seeing her name in print so I knew it would be a popular choice but it also turned out to be an absolute corker of a story too!
When a little boy receives a plant for his birthday he decides to name it Ivy. It's his favourite present and he spends lots of time tending to her to make sure she grows healthy and strong. As Ivy increases in size we soon discover that this choice of name was maybe a little incongruous. It doesn't look like an evergreen climbing plant at all. In fact it looks distinctly carnivorous…
Over the next few days Ivy grows and grows and the boy asks different family members to keep an eye on her. The trouble is that those family members keep going missing! Where is the cat? and his sister? and his Grandpa? They are nowhere to be seen, but look closely and you might spot the sister's saxophone and the Grandpa's train set curled up in Ivy's leaves.
By the end of the week the little boy finds himself completely alone with his plant, which is now so large it fills most of the living room. Where has his family gone and why is Ivy creeping towards him in a slightly unnerving manner?
If you've followed us for a while then you'll know that 'mild peril' is one of Ivy's favourite genres and this book certainly delivers on that front.
The first time we read it I loved watching her face and seeing the point at which she realised the plant was cheekily eating members of the household! The illustrations are gorgeous and there are lots of little details which add to the sense of drama and help your child grasp what is going on. There's also an unexpected pop up which really adds to the story.
If your child is a little more on the sensitive you can rest assured that there is a happy ending. The family all end up unscathed but they do agree that perhaps they should ALL keep a closer eye on Ivy from now on!
Buy from Bookshop.org and support independent bookshops: https://uk.bookshop.org/a/155/9780500652534
Buy from Amazon UK: https://amzn.to/382erNe
Note these are affiliate links and Ivy's Library will receive a small commission if you choose to purchase through them.