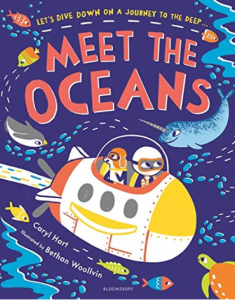 Geography was never my favourite subject at school but if our textbooks had looked anything like this beauty from Caryl Hart and Bethan Woollvin then I suspect I may have paid more attention!
At the start of this gorgeous rhyming story we hop on board a submarine with a little girl and her dog. Together we embark on a journey to see the world's oceans, but this is no ordinary tour as the guides are the waters themselves.
First we meet the Arctic Ocean, who smiles as she speaks of her pride at being the smallest. She shows us her narwhals, her beluga whales and the polar bears who inhabit her ice. Next is the choppy Atlantic who tells us about her underwater mountains and hidden caves. Our submarine glides past blue fin tuna in the Indian Ocean, sea snakes in the Coral Sea and millions of pieces of plastic in the Pacific.
Non-fiction can sometimes be a little dry but this is heaps of fun. The bouncy rhyme is perfectly crafted and it's a pleasure to read aloud. The bold, almost day-glo illustrations are also absolutely spot on. Each ocean has its own face, colour scheme, personality and tone – from the chilled out Caribbean to the bustling South China Sea – which makes it so accessible for small children.
This book is swimming with fascinating facts, all presented in such a wonderful format. Ivy was instantly enchanted and I have to admit I learnt a few things too! It's the perfect introduction to all things sea-related and I imagine it would make a great classroom resource.
Buy from Bookshop.org and support independent bookshops: https://uk.bookshop.org/a/155/9781526603630
Buy from Amazon UK: https://amzn.to/3kLjcRg
Note these are affiliate links and Ivy's Library will receive a small commission if you choose to purchase through them.
Disclosure: The publisher provided us with a copy of this book in exchange for an honest review.