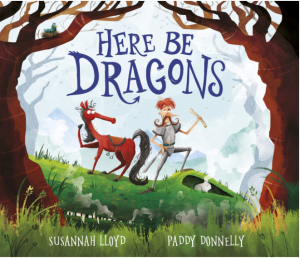 ***COVER REVEAL***
We're very excited to be part of the cover reveal team for this fab new book by Susannah Lloyd and Paddy Donnelly!
Publishing in February 2021, 'Here Be Dragons!' is a fiercely funny story about a hapless knight on a dangerous mission to find and slay a dragon.
His friends have all told them that the fiery beasts don't exist, but he has discovered a map which seems to suggest otherwise. Determined to prove them wrong, the knight sets off into the wilderness.
As he nears his destination he passes piles of discarded bones, battered pieces of armour and many, many signs marked Danger – but he's so busy reading his map that he doesn't notice. He also fails to realise that the 'hill' he's climbing seems to have scales, spikes and something which looks suspiciously like a tail…
Will he spot the dragon before it's too late?
Ivy was lucky enough to get an advance peek at this one and it definitely gets the thumbs up from her. We both love books where the words and pictures tell different stories and this is a fantastic example which had her giggling all the way through.
She spotted the knight's errors immediately and took great pleasure in pointing out all the things that he would have noticed if he had been paying proper attention. I won't spoil the ending for you, but Ivy loves a touch of 'mild peril' so she was bouncing in her seat for the final pages!
The illustrations are great fun and there is so much detail to enjoy and explore. There's also some great old-fashioned language sprinkled through the text. Thanks to the author, Ivy has added 'forsooth', 'verily' and 'yonder' to her vocabulary – and they sound pretty darn cute coming from a 4-year-old!
It's available to pre-order now and I would highly recommend grabbing yourself a copy if your child loves a good adventure story.
Pre-order from Bookshop.org and support independent bookshops: https://uk.bookshop.org/books/here-be-dragons-9780711256613/9780711256613
Pre-order from Amazon: https://smarturl.it/amzherebedragons
Disclosure: The publisher provided us with an advance copy of this book in exchange for an honest review.