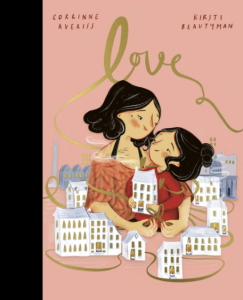 Little Tess has grown up surrounded by warmth and affection. She adores her family and, because they are never apart, love follows her like a warm scarf wherever she goes.
When it's time for Tess to start school she is nervous because her family can't come with her. She's never had to do anything by herself before and she is worried that she will be seperated from her family's love. Her mother explains that love is like a string which connects them even when they are apart. It can stretch really far and it won't ever, ever break.
Tess isn't sure about this theory but as she enters the school she starts to see little threads of love everywhere. Each child has a string just like hers and one boy even has a string which reaches right up to the sky, connecting him to the father which he lost when he was small. Reassured by this, Tess settles into her day and we even see a new thread start to grow between the little girl and her teacher.