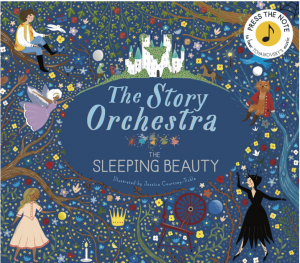 On Christmas Eve, Santa was kind enough to make a special trip to our house to leave a book, a teddy and some festive pyjamas for Ivy. A new tradition which really helped with getting her settled for bed in all the excitement. Santa didn't disappoint with his choice of book and the whole family was entranced!
The Sleeping Beauty is part of a wonderful series called The Story Orchestra which introduces children to classical music. The books are  beautifully made and the illustrations are truly wonderful. They each feature a host of diverse characters and there is a lot of detail in each picture for little ones to explore.
We all know this classic tale so I won't give you a rundown on the story, but this is a very eloquent retelling which Ivy has really enjoyed.
Each double page spread features a portion of the story along with a button which plays a short excerpt from the relevant section of Tchaikovsky's famous ballet. At the back there's a portrait of the man himself and a short biography, along with a glossary of musical terms and some other pieces of music which your child might like to try.
I thought that Ivy would like the novelty of the format but was pleasantly surprised when it sparked a real interest in the music itself. She has a favourite excerpt (the dramatic section of the prologue, where evil Carabosse casts her spell) which she can now recognise independently of the book, and she's watched many clips of the actual ballet on YouTube.
The age recommendation on this one is 4-7. and as there's a small battery in the back of the book it's not suitable for children under 36 months.
We enjoyed this book so much that we've since purchased the other 3 in the series – The Nutcracker, Swan Lake and Four Seasons in One Day. If you're looking for something a bit special then i'd highly recommend it, and it would make a great gift!
Buy it now: https://amzn.to/36evt7V