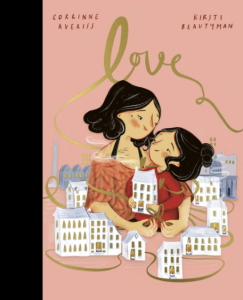 Little Tess has grown up surrounded by warmth and affection. She adores her family and, because they are never apart, love follows her like a warm scarf wherever she goes.
When it's time for Tess to start school she is nervous because her family can't come with her. She's never had to do anything by herself before and she is worried that she will be seperated from her family's love. Her mother explains that love is like a string which connects them even when they are apart. It can stretch really far and it won't ever, ever break.
Tess isn't sure about this theory but as she enters the school she starts to see little threads of love everywhere. Each child has a string just like hers and one boy even has a string which reaches right up to the sky, connecting him to the father which he lost when he was small. Reassured by this, Tess settles into her day and we even see a new thread start to grow between the little girl and her teacher.
When hometime comes Tess starts to tug on her string but her mother is late, delayed by her younger brother. Angry and scared, she unties the string and throws it to the ground – but soon her mother is by her side reassuring her that no matter how stretched, tangled or knotted the string becomes, it can never truly be broken.
If you've read 'The Invisible String' then you'll be familar with the metaphor used within this story. We have both books, but this one has resonated with Ivy more –  possibly because it directly addresses seperation anxiety at school. This one feels like a more modern take on the idea of the 'string' and the illustrations are stunning. You can feel the family's love emanating from the pages and there are so many heartwarming details, including beautiful heart-shaped leaves and tiny candles flickering in windows.
What makes this book extra special is the fact that the protagonist and her family are Asian, as this is an area which is unfortunately severely lacking when it comes to representation in children's literature.
I'd highly recommend this one if your child experiences seperation anxiety or has been struggling with the return to school. Ivy has found it very reassuring, and it's great for opening up a conversation about worries and fears.
Buy from Bookshop.org and support independent bookshops: https://uk.bookshop.org/a/155/9780711255456
Buy from Amazon UK: https://amzn.to/3bTf4eR
Note these are affiliate links and Ivy's Library will receive a small commission if you choose to purchase through them.