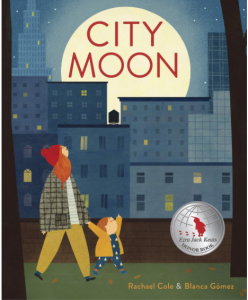 A few weeks ago I shared a collection of books about different kinds of families and a discussion began in my instagram comments about how there aren't enough books out in the world which depict single mothers. Somebody recommended this one and the author chimed in to confirm that she indeed had single mothers in mind when she wrote the story. Intrigued, I bought a copy and I am so glad I did as it is BEAUTIFUL!
One Autumn evening a young mother bundles her child in to pyjamas, a coat and boots and together they head out in to the crisp night. They are going on a walk to look for the moon! Hand in hand they traverse the city streets, catching brief glimpses of the moon as it hides behind buildings and trees. They talk about stars, reflections, the bustling pavements and the flashes of light from the speeding cars until eventually they return home and the child is tucked up warm and safe in bed.
It's a story in which nothing happens but everything happens. On the surface it's a book about a family taking a walk, but the bond between the two of them is so strong that it is palpable. The child is wide-eyed and curious as they explore the night and the mother answers all of their questions whilst keeping a firm and loving hold of their hand.
I think this is possibly one of the most calming picture books I have ever read, which makes it perfect for bedtime. The prose is mesemerising and the muted, warm colours used in the illustrations are stunning. It's such a comforting read and there is so much detail to explore. Highly recommend!
Buy from Bookshop.org and support independent bookshops: https://uk.bookshop.org/a/155/9780553497076
Buy from Amazon: https://amzn.to/35ZDJu4
Note these are affiliate links and Ivys Library receives a small commission if you choose to purchase through them.