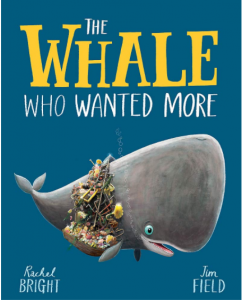 Humphrey the whale is never quite satisfied. He glides through the ocean with his many possessions strapped to his back, always on the look out for the next new thing to capture his attention. However, no matter how many treasures he amasses, he always wants more.
Driven by his desire to consume, Humphrey lives a lonely and dissatisfied life until one day he spots a reef which is bursting with colour and life. There are so many shiny, fun things – surely this is what he has been looking for? He circles above, constructing a plan.
Unbeknownst to him, the creatures who live below are also unhappy. Instead of seeing the beauty of their magical surroundings they bicker and shout at each other, jostling for space amongst the coral. They're too busy being grumpy to notice the covetous whale start to swim down towards them…
Fortunately one tiny creature has been paying attention. Crystal, a particularly feisty young crab, stops Humphrey in his tracks with an almighty shout and starts to ask him some difficult questions. Why does he need to have so many physical possessions? Wouldn't his heart feel fuller if he was caring and kind? As Humphrey listens he starts to realise that sharing his gifts with others might actually bring him the peace he has been seeking.
Rachel Bright and Jim Field are the picture book dream team and we have loved each and every one of their titles so far. At the heart of each book is a strong moral lesson, cleverly concealed within a hugely entertaining story and illustrated to perfection.
This particular title is a fun antidote to modern consumerism. It helps childen learn that true happiness doesn't come from having the latest toys and clothes (or in Ivy's case the sparkliest hair clips!). It can be found inside yourself when you spend time with friends and loved ones, share what you have and help those in need.
Buy from Bookshop.org and support independent bookshops: https://uk.bookshop.org/a/155/9781408349236
Buy from Amazon UK: https://amzn.to/3vtOqjQ
Note these are affiliate links and Ivy's Library will receive a small commission if you choose to purchase through them.
Disclosure: The publisher provided us with a copy of this book in exchange for an honest review